Body Shaping & Cellulite Control
Now there is answer to Cellulite and Fat in stubborn areas that normally would not respond easily to regular exercise and diet. There have been many options available over the years, including Alma Accent, Velashape II, Venus Shape, Kuma shape, Smart Lipo, Slim Lipo to name a few. The energy of infrared, radiofrequency (RF), ultrasound, low level laser, vacuum and massaging action have all been used to treat the stubborn areas like love handles, muffin tops and saddle backs, as well as back of the arms. While permanent solution for cellulite has been a difficult issue, the latest technology can control it, just like one would control type I diabetes. We use a combination of Bi-Polar RF, Infrared Light, Vacuum and Mechanical Massage to get results in 6-8 treatments.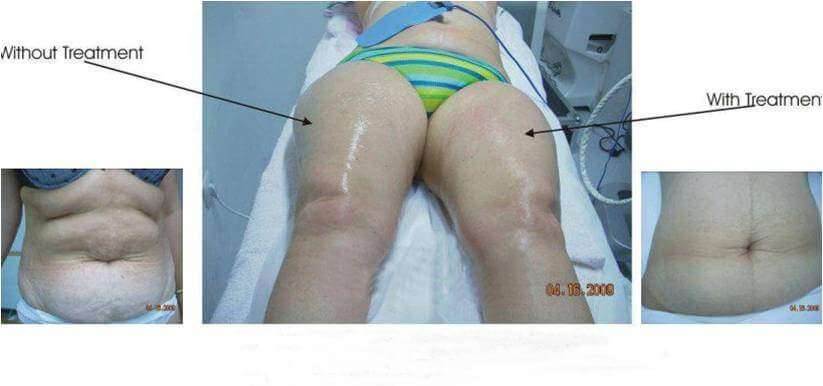 How it works?
We use the latest technology to precisely target and heat fatty tissues within the treatment area using radiofrequency and infrared energy. In addition, the vacuum and tissue manipulation evens out the skin to reveal a smoother figure, and reduce cellulite.
What body areas can be treated for Circumference Reduction?
Thighs and buttocks, love handles, and lower abdomen can be treated. The treatment is non-invasive, safe and effective.
How quickly will I notice a change?
Nearly 75% of those treated see significant improvement. Gradual improvement of the treated area can be seen following the first treatment – with the skin surface of the treated area feeling smoother. Results in Circumference and Cellulite Reduction will be most apparent in 8 weeks following the final treatment session.
How many inches can I reduce?
In various clinical studies, patients report an average reduction of about 1 inch after the treatment series, the range of Circumferential Reduction was between 0.5-3 inches.
How do I improve and maintain the Body Shaping treatment results?
After you complete treatment series, it is recommended to get maintenance treatments periodically. Like all non-surgical or surgical techniques, results will last longer if you follow a balanced diet and exercise regularly.
Is the treatment safe?
It has been cleared as safe and effective for all skin types and colors for circumference reduction. Short term effects can include mild bruising or redness, which will improve. There are no lasers, no needles, no surgical incisions, no hospital visits or
Is this treatment right for me?
The majority of the population is suitable for receiving the Body Shaping treatment. You should consult with your physician prior to receiving treatments. People with certain medical conditions may not be suitable. This is not a replacement for traditional surgical invasive liposuction.
Does the treatment hurt?
Most patients express that the treatment is pleasant, followed by a deep heating sensation underneath their skin like a warm deep tissue massage. The treatment is designed to accommodate your sensitivity and comfort level. It is normal to experience a warm sensation for a few hours post treatment. Your skin may also appear redder than usual for several hours.
How will I feel after treatment?
It is normal to have an inner heated sensation for up to a few hours post treatment. In some cases, mild redness can be observed.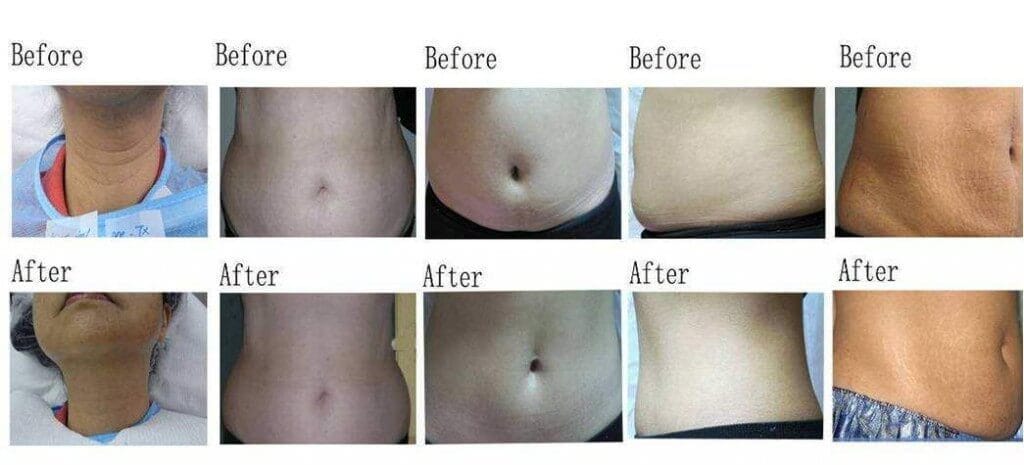 We are open:
Monday to Friday
10:00 AM to 6:00 PM