Epionce® Skin Care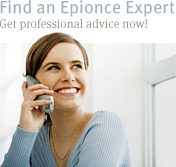 Epionce® Skin Care Restore the Power of Your Skin Barrier
Most skin care products are topical solutions that remain on the skin surface providing no real therapeutic benefit. Our unique approach delivers a blend of active botanical ingredients to deeply penetrate the skin. Epionce skin care  strengthens your skin's own mechanisms, helping to improve function, restore the barrier and reverse destructive skin inflammation. This results in a stronger healthier barrier that can help defy the effects of aging and disease giving you smoother, more radiant skin that functions at its optimum.
Epionce Skin Care Products – Clinically Proven Results
Epionce skin care products are rooted in hard science and are not an over-reaction to skin care industry  trends. All Epionce clinical studies are performed by nationally recognized independent research organizations and adhere to the highest standards for clinical studies using the finished, consumer ready product. As the experts behind Epionce, we believe it is our professional obligation to prove Epionce is safe and effective.
The Epionce product line is retailed through dermatologists, plastic surgeons and other skin care professionals interested in improving the overall health of the skin and quality of life of their patients.