Laser Hair Removal In New Jersey: What You Need To Know
Who can do laser hair removal in new jersey?
In New Jersey, there is protection for the people by the State; IPL and Laser procedures MUST be done by a licensed Physician only. At Anara Medspa you can be sure that you are treated by a Board Certified NJ licensed physician, who is also board certified by the American Board of Laser Surgery, and has performed more than 30,000 laser procedures to date. Laser procedures require not only medical knowledge of the skin, and hair, but also knowledge of medical conditions affecting hair growth, ability to treat complications, as well as experience in treating different skin colors using different lasers. We provide that at Anara Medspa and by choosing us you have made the right informed choice.
Interval of treatments & hair growth cycle:
Hair grows in cycles (Anagen, Catagen and Telogen). Hair is most susceptible for laser during Anagen phase. Hence multiple treatments will be necessary. The Duration of the cycle (i.e. interval between treatments) will vary, but typically 4 weeks for the face, 6 weeks for the rest of the body and 6-8 weeks for the legs. Sometimes this interval has to be adjusted based on a number of factors. Of course patients may elect to get treated more frequently.
Ethnic backgrounds of skin colors we treat:
We have treated skin color of all ethnic backgrounds over the last 9 years, and while we have access to different lasers, our expertise in treating all skin types is an additional plus in your favor.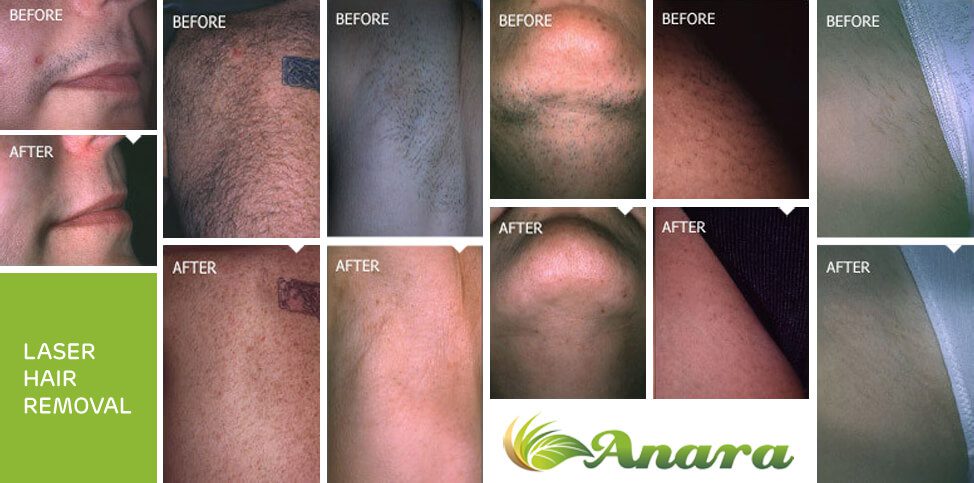 What should you know before considering a center for laser procedure?
Before submitting your body to a medical procedure like laser hair removal in New Jersey, you should ask the following questions: 1. Who does the laser or IPL procedures? Is it a licensed and qualified physician? 2. How many procedures have they done? Have they treated all skin colors? 3. Can they treat any possible complications including giving prescriptions if needed? 4. Do they own the lasers or rent them? Renting and leasing the lasers will put lot of limitations, including frequent movement of the high tech machine with sensitive electronics and also constant watch on the number of shots used, as the leasing company charges based on the number of shots used which is going to be monitored. 5. Do they use IPL machine (and call it Laser) or do the have a real laser? (more about this later..). For best laser hair removal in New Jersey, Anara has been at the forefront.
What is the difference between an IPL and a laser?
An IPL machine is not a laser, and should not be advertised as such!! And accordingly advertising and offering Laser Hair Removal and using only IPL is misleading and deceptive!! IPL stands for Intense Pulsed Light; it is a broad spectrum light with a flash lamp and a filter. Lasers are single wavelength state of the art technology, and are a lot more specific, safer and effective in the right hands. We have seen several clients who have had often 15-20 IPL sessions elsewhere (they thought they were getting laser treatments), with minimal reduction and some of them have also developed excessive hair growth(called hair stimulation), though this can also occur rarely with lasers. When an under-powered IPL or laser machine is used it can result in stunting of the growth making the hair thinner, rather than destroying the hair follicles; this can cause future treatments more difficult and less effective. Some times the difference between an IPL device and a High Powered Professional Laser Device, could be that between a tricycle and a Ferrari! Next time when you see a groupon deal that appears to be too good to be true, you are right!
Our lasers:
We use the most advanced laser hair removal system that was voted as the best hair removal laser in the Aesthetic Awards at the Aesthetic Show 2012 in Las Vegas. The voting was done by Cosmetic Physicians from around the world. We own our lasers and do not lease them. We have Nd:YAG, Diode, Alexandrite, and IPL devices. All these technologies are FDA approved. Permanent hair reduction involves heating the root of the hair by using a laser. By coagulating the root of the hair, we can ensure that it will not grow back. For laser hair removal in NJ, Anara has been the top choice for people of New Jersey, New York and Pennsylvania.
What are the advantages of laser hair reduction compared to waxing, threading, shaving, electrolysis, & depilatories?
Repeated waxing and threading produce "trauma" to the hair resulting in inflammation. Repeated inflammation can produce discoloration in the area. These methods also increase the ingrown hair which in turn increases further inflammation. This is more so in the underarms and bikini areas. Uneven appearance of the skin with irregularities, bumps and shadows can be unsightly and embarrassing in social situations. Some people also develop a condition called "Pseudo-folliculitis" especially on chin, sideburns and bikini areas. Laser elimination of the hair increases the smoothness of the skin, reduces unevenness and eventually skin will turn to normal color and will feel smooth. Electrolysis may be okay for a small area but clients say it is more painful, time-consuming, and more expensive. We have also had clients who failed electrolysis and had excellent results with laser sessions. Pseudo-folliculitis can be cured with laser hair reduction treatments. While all the above methods are temporary, only laser hair reduction and electrolysis are considered more permanent solutions. In the long run one would spend more money on waxing and its still temporary.
Number of treatments:
There is no typical number of treatments as each patient responds differently. The only thing we can commit to is that there will be less hair with each treatment and that the hair growing back will not only be sparser, but finer as well.Typically, an initial series of 5 treatments at correct intervals will yield good results, although more treatments may well be required. After this initial course of treatments, we will evaluate how many more treatments may be required if any.Darker skin patients may need more treatments as we must exercise caution when treating darker skin types because of the competition between melanin in the skin vs. melanin in the hair follicle.
What should i know about safety of the eyes?
We use utmost safety measures to make sure clients are fully protected thru out the laser session. For IPL based sessions we use specially coated glasses or disposable eye shields to protect the eyes. For high powered laser sessions we use metal eye shields or disposable laser eye shields only, as any other protection is less than perfect. Decades ago there were instances when workers and scientists working with lasers going blind from exposure to lasers and hence utmost protection is important to us. In other words you are 100% protected. Count on us. Just like while having surgery, you will not be able to see the area being treated, unless an IPL is being used. If any other laser centers are not appropriately protecting the eyes of clients with laser eye shields while using lasers, it is their choice and we can not be expected to do the same! For those who have a condition called "claustrophobia" covering the eyes and enclosed spaces like closing the door of a room cause severe anxiety and hence we can not treat those with claustrophobia with lasers; however some of them are able to have IPL sessions with IPL glasses on. To protect our staff and other passers-by we are required to close the door and windows while lasers are in use, which is a standard of practice.
Do I need to expose the body area to be treated? but i am shy!
Yes! Believe it or not! We do get this question rarely from time to time! Hence it is discussed here. At present there is no technology to destroy the hair thru the clothing, and there never will be one in future. This applies to any areas of the face, neck or body, including bikini, scrotum, labia, buttocks or anal area. Poorly exposed area not only hinders the proper treatment by the technician, resulting in incomplete and shabby treatment, but can also be dangerous. If the adjacent clothing is dark, if laser falls on it by mistake, for example when the client suddenly moves, it can catch fire, as laser is attracted to darker colors! This can cause danger to the laser operator and the client. The area has to be exposed, clean shaven, and must not have any chemicals including makeup, creams, lotions or even sunscreen. If exposure of any specific area is not comfortable to you, laser treatments are not for you. Majority of our clients understand this and have no problems with it. For those who are not comfortable, we suggest they find another provider of the same sex.
What happens after each laser session?
With each treatment, the remaining hair grows sparser and finer. The patient needs to determine when the cost of additional procedure outweighs the end-results, but needs to be informed that the less hair there is left (and the finer and lighter it is), the more difficult it will be to further reduce. Most patients achieve desired results with 5 to 9 procedures (more with darker skinned patients.)
Why do i need more than one treatment if the hair follicles are killed with one session?
The laser can kill the hair follicles especially those in the growing stage, on that day. What it can not do is prevent your body from producing brand new hair follicles from the stem cells. This is often determined by many factors like genetic and hormonal issues. Some women with a hormonal condition called polycystic ovary syndrome might have extremely excessive hair growth. In general bikini,legs and underarms do better than face, and require less number of sessions
Are there any life-threatening problems from laser hair removal?
Your eyes will be completely covered with steel goggles during treatment thus protecting your eyes. Since the laser used is not an X ray nor a source of ultraviolet light there is no evidence that it causes cancer. This treatment is not known to cause any harm to the internal organs
What are the common reasons for complications with appropriate settings and the right laser?
Not removing the makeup fully prior to treatment
Prior and Subsequent Sun exposure or Tanning lamps
Spray Tan on the skin
Not following the pre- and post-procedure instructions
How do you take care of discomfort and pain in sensitive areas like bikini and lips?
We use a cocktail of medical grade numbing cream for bikini and lip, in addition to ice pack and constantly blowing cool air, so that you are comfortable throughout the procedure.We also apply specific healing creams to the area treated after the procedure. If you want we can prescribe a numbing cream that you can apply at home 30-45 minutes before the procedure. Some of our lasers have chilTip technology, with contact cooling with Saphire tip, that cools the skin before, during and after treatment that reduces the discomfort significantly.
Are you able to treat any skin type, even tanned skin?
Yes we can treat any skin type, including tanned skin. However we recommend to avoid sun-exposure and tanning for best results. This is because the laser targets the dark pigment called melanin to destroy the hair. Melanin is more in the skin of darker individuals and those who are tanned. Our 755 nm Alexandrite laser is very effective and used mainly on lighter skin. The 1064 nm YAG laser is suitable for darker skin. Its the only laser that can be used in tanned skin. We also have a choice of IPL and combination of IPL and Radiofrequency to use in some patients and for larger areas.
Do you treat any area of the body?
Yes! We treat any area of the body except eyebrows. Popular areas are underarms, bikini, legs, face, areola and men's back. We are one of the few centers who perform full Brazilian bikini treatments, still at affordable prices. For Brazilian hair removal NJ, more people are choosing Anara Medspa over any other laser center. It has been an increasing trend to go full-monty with full Brazilian bikini laser hair removal treatment and for good reasons, as illustrated in this informative and well-written New York Times article. If the skin of the area to be treated is extremely dark, with no contrast between skin and hair color, we do not recommend any laser session. Our physician will be able to advise you about this during consultation
Why do we not do male brazilian laser treatment?
At present we do not do male Brazilian laser hair sessions due to following reasons: Testicles are much closer to the skin and they are highly sensitive to heat. There is a theoretical possibility that the male gonads including sperms and sperm precursor cells can be damaged by the heat and depth of penetration of laser. In order to avoid any of these risks we do not perform this treatment unless in exceptional circumstances for medical reasons like proneness to pilonidal abscesses, and the patient signs a waiver. Ovaries are situated deep in the pelvis and they are not affected by laser treatments whatsoever, hence there is no risk of damage to ovary and no risk of infertility  in women. Ovaries in fact like higher temperature and hence they are located deep in the pelvis where the temperature is higher. Testes DO NOT like higher temperature and hence they are located outside the abdomen; and the scrotum helps to keep the temperature lower in ordinary conditions. Scrotum however is not capable of  protecting the testicles from laser.
Can blonde and gray hair be treated with lasers?
As long as there is at least some brown color in the root of the hair, laser would work. If there is no pigment at all in the hair follicle for the laser to target as in Gray hair, laser will not work. During consultation we will be able to give an idea if the laser would work for your particular situation. In some cases we can also prescribe a pre-treatment with melanin-containing lotion for 2 -3 weeks, to enhance the response of the gray hair or peach fuzz.
Do you have a physician perform the treatments? What is their qualification?
WHAT IS THEIR QUALIFICATION? The treatments are performed by our licensed physician, Dr Chandra, who is also board certified by the American Board of Laser Surgery in Cosmetic Laser Surgery. Dr Chandra has performed more than 25,000 procedures and is loved by our patients. About 90% of our patients are women and 10% are men. Our patients belong to all skin types, colors and backgrounds. You can read many online reviews about our staff. You are in good caring hands.
Which are the areas from which clients come to visit anara medspa?
We have clients coming from all over New Jersey, New York City including Staten Island and Eastern Pennsylvania. Due to our central location and easy access thru highways we have clients coming from but not limited to, Edison, Metuchen, Westfield, Cranford, East Brunswick, South Brunswick, Somerset, New Brunswick, Princeton, Summit, Short Hills, Millburn, Union, Manalapan, Marlboro, Morganville, Hillsborough, Plainsboro, Warren and Bridgewater. Our clients appreciate our expertise, ease of appointment, minimal waiting time and thorough evaluation, in addition to the fact the laser services are done by well trained, experienced and Board certified licensed physician.
What can you tell us about home laser devices?
We know sometimes its hard not to fall for the temptation once you see those late night infomercials! They are very convincing, aren't they? Yes we did our homework and research and even our staff bought some of these $400-$500 devices to test them so that we can give accurate first hand information to our clients: In one sentence, please don't waste your money! They don't work and these low powered devices can sometimes be counterproductive by producing hair stimulation (more hair growth) probably by stunting than killing the hair. When you ask yourself, how can a $400 device do the work of a state of the art $100,000 plus laser devices, you will know the answer!
I can get full body laser sessions on groupon at st elsewhere for $50. can you match that?
No! Good luck!
What about privacy?
All sessions are by appointment only and one of the best aspects that our clients love about is the privacy that our Spa provides. It is very important to us! Often two friends who come for sessions with us will not know, that the other one is coming to us. We don't tell. Period.
Pricing?
We can only give pricing upon consultation, since pricing depends on the skin type, medical history, color, texture and extent of hair, and the area of the body to be treated. Some times clients find out that some areas don't need treatment after all or not suitable for laser sessions. Some clients might need certain blood tests. In general we apply the price of consultation to the first treatment, effectively making the consultation free. In some clients upon request, we can also do a test shot without charge.